Sanshaw-Bonanza
Grandview has earned 100% interest in the 14 claim and 2 patent Sanshaw-Bonanza property located on the Red Lake Mine Trend, approximately five kilometers southwest of Goldcorp's Red Lake Mine, on the western strike extension of the Goldcorp/Premier Gold Mines Rahill-Bonanza joint venture property.
Red Lake Ontario Regional Activity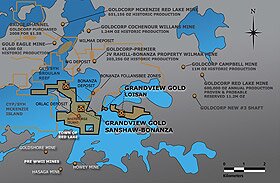 Click here to view a larger version
.
Since acquiring the property in early 2007, Grandview Gold has commenced a thorough compilation of previous exploration, to obtain precise information on mineralization, ore geometry,   overall geological controls. Preliminary data, processed in Gemcom, is assisting in the planning   development of future drill programmes.
All significant gold mineralization outlined to date on the Bonanza Property appears to be directly related to two stages of mineralized quartz veining within conjugate fracture   shear-sets within the granodiorite Dome Stock or within its contact zone.
Previous drilling   geophysical surveying has indicated a potential for additional mineralization along a North-South structural trend, offshore of Whitehorse Island. With continued positive results from the Premier Gold Mines' drill programme to the north-east, there is also potential for the south-west continuation of their Rahill-Bonanza zone (CP Zone) onto the Bonanza property.
To reduce exploration time and expense and extend the exploration season, diamond drilling is planned for the winter months when the lake is frozen and rigs can be placed directly over target area. See the pages of this website for updates.
Cautionary Note to U.S. Investors - The United States Securities and Exchange Commission permits U.S. mining companies, in their filings with the SEC, to disclose only those mineral deposits that a company can economically and legally extract or produce.  Grandview uses certain terms on its website (and certain press releases), such as "measured," "indicated," and "inferred," "resources," which the SEC guidelines strictly prohibit U.S. companies from including in their filings with the SEC.  U.S. Investors are urged to consider closely the disclosure under the heading "Cautionary Note to U.S. Investors Regarding Mineral Reserve and Resource Estimates" in our latest annual report on Form 20-F which may be secured from us, or from the SEC's website at http://www.sec.gov/edgar.shtml.
This website contains information about adjacent properties on which we have no right to explore or mine.  We advise U.S. investors that the SEC's mining guidelines strictly prohibit information of this type in documents files with the SEC.  U.S. investors are cautioned that mineral deposits on adjacent properties are not indicative of mineral deposits on our properties.