Red Lake Gold District
Regional Activity
The high profile Red Lake Mining District garnered world-wide attention on the heels of Goldcorp's extraordinary success with the Red Lake Mine and Campbell Mine.
The Red Lake Mine Complex, now one of the riches, lowest cost production operations in the world - 11 million ounces gold to date; 600,000 ounces annually - has demonstrated to feasibility of the area and attracted more than 60 juniors in the past seven years. Several mines along the Red Lake Mine Trend have produced economic deposits.
Currently Goldcorp Canada Ltd continues production at the Campbell and Red Lake Mines. A Goldcorp joint venture with Planet Exploration has led to the testing of targets on Planet properties. Gold Eagle Mines Ltd., has plans to drill up to 25,000 meters in 2007 on their Bruce Channel Zone target.
Another Goldcorp joint venture partner, Premier Gold Mines Ltd., whose primary interest lies in Red Lake, continues drilling on their Rahill-Bonanza project, with intentions of extending the CP-Zone, further to the south-west.
Grandview's 1,664 hectare Dixie Lake Project is located on the south border of the Goldcorp/Premier Gold Mines Rahill-Bonanza joint venture property, 16 miles south of the Red Lake Mine.
Several other junior companies pursue exploration programs in the area.
Red Lake Ontario Regional Activity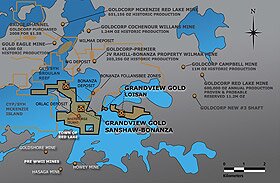 Click here to view a larger version
.
Red Lake Gold District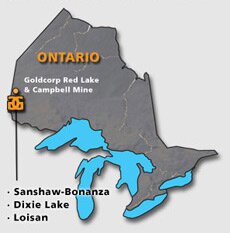 The Bonanza Property is situated along the so-called Red Lake Mine Trend, in Red Lake, with the high grade Red Lake Mine to the north, in addition to the past producers at Cochenour and MacKenzie, and to the south, the Howey Bay, Wasaga   Madsen Mines.
Recent exploration by Sabina, Wolfden/Premier, Exall/Southern Star, and Goldcorp, indicate the potential for additional deposits being discovered. The most significant of these deposits perhaps being the Folansbee, less than 1 km from the boundary, arguably could have a western (and open) extension trending onto the Bonanza Property.
The Red Lake belt is currently being actively explored by over twenty companies. The focus, however, is within the Red Lake-Balmertown-Cochenour area, with Grandview Gold well-situated in favourable geology, structure, and mineralization.
Although the Red Lake District continues to be explored enthusiastically by many juniors, activity in the Dixie Lake area is dominated by Grandview Gold and Fronteer.