Becoming A Junior Producer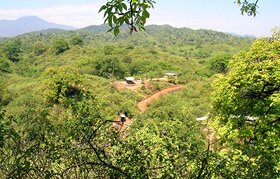 In an effort to reduce dependence on the capital markets and evolve best practices regarding social and environmental governance, Grandview Gold has adapted its business model beyond traditional gold camp exploration, to include a gold production and small-mines component. With the acquisition, in July 2009, of the Giulianita gold-producing property in northwest Peru, Grandview Gold (through its wholly-owned subsidiary Recuperación Realzada S.A.C.) took the first steps toward becoming a junior gold producer.

For junior resource companies, adopting the small-mines concept in its entirety (as owner-operators, not just processors) is indeed a new idea. Adopting the major producer model on a very small but scalable basis is innovative, but it is an idea whose time has come.

The small-mines concept involves the acquisition of small, gold-producing properties in politically stable environments in North and South America - often in unknown or emerging mining districts - and working cooperatively with local, regional and national governments and stakeholders, to sustainably develop the resource and implement processing and production facilities to service the property and surrounding area. Under-developed gold districts have a rich history of artisanal mining, whereby entire communities are dependent on near surface gold mining for sustenance.

However, in most isolated artisanal mining communities, including many in Peru, the gold ore processing techniques used by artisanal miners can be detrimental to themselves and to the eco-system. Mercury amalgamation - a crude and out-dated method of gold recovery, combined with cyanide leaching and other processes continue to compromise overall health and quality of life. It is possible however, for foreign mining companies to contribute expertise and infrastructure to reduce the artisanal mining community's dependence on hazardous process, but leave their dependence on and traditions surrounding their precious natural resources, intact.
Grandview's approach to small-mines development is not risk-free, but the model does considerably shorten the window of time projected to lapse between acquisition and production. And, by working together with active small-mining communities to improve their quality of life, productivity, and local and regional GDP, the risks and benefits of resource development are shared willingly among stakeholders and the downstream benefits ultimately, are greater for all stakeholders, for the environment, and for shareholders.

Small-mines opportunities exist in most gold-producing areas of the world, though the formulae for success vary greatly. Grandview Gold, by virtue of its experienced and well-positioned management team and board of directors, has unique insight and access to existing and emerging ways and means of sustainably developing cash-flow positive small-mines projects. The Company's near term goal is to develop Giulianita, and explore complimentary or un-related small-mines opportunities in qualifying, politically stable, gold-producing areas of North and South America.
Positive cash-flow from gold production will help fund both new small-mines projects, and the company's traditional high-potential exploration projects in major gold districts like Red Lake, Ontario and Rice Lake, Manitoba.