RED LAKE GOLD DISTRICT
The Red Lake Gold Mining District in northwestern Ontario is to Canada what the Carlin Gold Trend is to the United States, and what Witwatersrand District is to South Africa - the most prolific gold producing region in the entire country.
Red Lake Ontario Regional Activity
Click here to view a larger version
.
Red Lake Gold District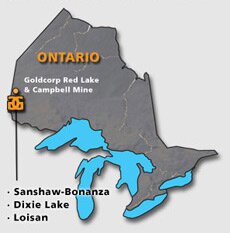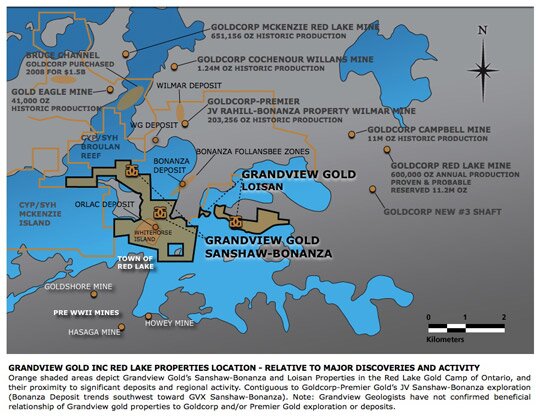 Since the mid-1960's The Red Lake District has yielded over 30-million ounces of gold worth over USD$20 billion at today's prices and is home to Goldcorp's Red Lake Mine, one of the richest, lowest cost production mines in the world. The Red Lake Mine produces approximately 600,000 ounces worth USD$405 million annually, with over 11 million ounces (USD $7 billion) gold to date.
Despite Red Lake's long history, the most prolific discovery was made just ten years ago. Dickenson Mines Ltd. had been successfully operating the Arthur White Mine in the region since 1948 and was acquired by Goldcorp in 1989. After applying advanced science and contemporary perspective to the former Arthur White Mine site and surrounding area, and implementing an impressive exploration program, Goldcorp made one of the highest grade gold discoveries in the world, averaging 9.08 ounces of gold over 7.5 feet on nine drill holes.
The now high profile Red Lake district has attracted nearly 60 juniors over the past five years and District real estate has elevated to blue chip status.
Grandview has considerable interests in the Red Lake District and on the Red Lake Gold Trend. These three projects, plus interests in Manitoba's emerging Rice Lake District fit perfectly into the Company's Canadian exploration strategy of applying advanced geology, geophysics and geochemistry to the Red Lake & Rice Lake greenstone belts.
Cautionary Note to U.S. Investors - The United States Securities and Exchange Commission permits U.S. mining companies, in their filings with the SEC, to disclose only those mineral deposits that a company can economically and legally extract or produce.  Grandview uses certain terms on its website (and certain press releases), such as "measured," "indicated," and "inferred," "resources," which the SEC guidelines strictly prohibit U.S. companies from including in their filings with the SEC.  U.S. Investors are urged to consider closely the disclosure under the heading "Cautionary Note to U.S. Investors Regarding Mineral Reserve and Resource Estimates" in our latest annual report on Form 20-F which may be secured from us, or from the SEC's website at http://www.sec.gov/edgar.shtml.
This website contains information about adjacent properties on which we have no right to explore or mine.  We advise U.S. investors that the SEC's mining guidelines strictly prohibit information of this type in documents files with the SEC.  U.S. investors are cautioned that mineral deposits on adjacent properties are not indicative of mineral deposits on our properties.